Avid golfers take heed!  The iNSTA-PRO could be you're ticket to a glassy smooth swing that stays on plane from takeaway all the way through impact and follow through!  Part of the problem with golfing is that you can't see your own swing, and to get professional help costs you and arm and a leg.  The iNSTA-PRO iPhone app turns an iPhone 3G S into a virtual golf teaching machine.  It comes with slick features and an assortment of tools that'll help you video tape, analyze, document, and improve your swing, all directly from your iPhone.
The iNSTA-PRO app allows you to record and analyze your swing from multiple angles so you're able to get a good visual on your overall swing technique.  The app comes with drawing tools that help you analyze and improve on key swing fundamentals such as setup, head and ball position, takeaway, swing plane, width, and arch, weight transfer, release, and follow through.  There are circles that you can use to measure angles and to highlight areas that you need to keep still during your swing such as your head and back knee.  There are lines that you can insert at any angle that help you analyze things such as knee and head position, shaft and shoulder angles, and swing plane.  On top of these tools The iNSTA-PRO also gives you hands on control to play, pause, and scroll forward or back so you can analyze each and every position throughout your swing.  You can even turn your iPhone 3G S sideways to view and compare two different swings at the same time.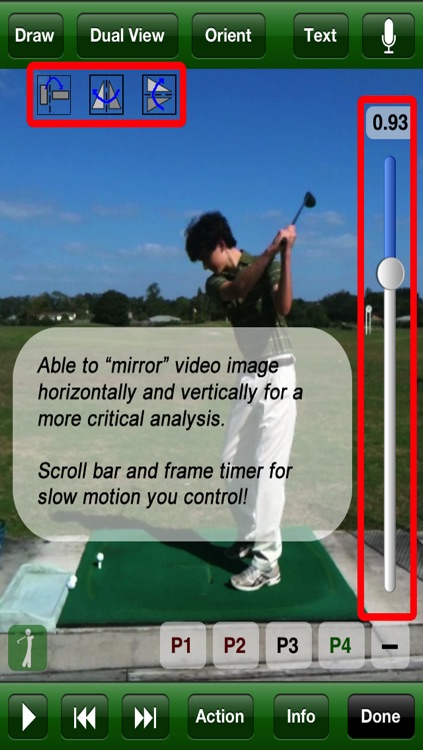 In addition to its handy swing analysis tools, The iNSTA-PRO also serves as a swing log.  For each swing recorded you can document the date, golfer's name, course, club, strength, and result of the swing.  So basically, you can crank out a swing, record that you sliced the crap out of it, and then can use the swing analysis tools to identify all parts of your swing that went wrong.  Likewise, if you cranked out a solid swing with a nice subtle draw, you can log the result, go back and review the tape, and identify everything that you did right.
Key Features of The iNSTA-PRO:
Ability to capture and trim 30fps video directly from the app
Play/Review video frame by frame or in normal, fast, and slow motion
Pan & Zoom in on your video at any point of a swing
Analyze video with drawing tools, including multiple adjustable shapes and colors
Website membership to The iNSTA-PRO & The iNSTA-Club online user community
Ability to save and store your videos on the app or online to your iNSTA-PRO user account
Alright, let's get down to business.  I've been playing golf for most of my life.  I worked as a cart boy for 5 years, played for my high school golf team, am a member of a country club, and have been known to wager a couple of greenbacks on a round from time-to-time.  Although I'm not a pro, I'm very familiar with golf techniques, fundamentals, and teaching principles.  Lucky for me, three of my good friends are certified PGA teaching professionals one of which played on the Senior PGA Tour for a brief stint.  Because of this I get VIP access to the video equipment at my country club.  The iNSTA-PRO app literally has all of the same tools that equipment does.  Now don't get me wrong.  The difference in camera quality is night and day, but it should be for how much my country club paid for the setup.  In all honesty, you really don't need HD quality video to adequately perform swing analysis.  Just having the ability to capture and analyze your swing on any kind of video is a major help.  Throw in the extra tools to mark, measure, compare, and critique your swing and it becomes a really helpful practice tool.
Unfortunately for me, a major snow storm hit the Washington, D.C. area last weekend so I wasn't able to take The iNSTA-PRO out to the range for a full test.  The best that I could do was to solicit the help of a friend, grab a club out of my bag, and let loose a couple of practice swings inside.  The biggest weakness I found with the app was that without the help of a stabilization device like a table or a tripod, it was kind of difficult to keep the iPhone perfectly steady.  Having a perfectly still video doesn't hamper you from getting good feedback on your swing, but it does somewhat limit the benefit of some of the drawing tools.  For example, if you've circled your head and your knee because you want to see if you're keeping them still and in place throughout your swing, it's a little harder to tell if you're successfully doing it when your iPhone is shaking while recording.  So, for best results I recommend you have something with you that you can rest the iPhone on to keep it steady while filming.
If there were something else I'd like to see added to this app it'd be a section with golf swing instructional videos.  It'd be great if users could view swing fundamentals videos and then compare them side-by-side with their own swing videos.  All in all, I found the The iNSTA-PRO app to be fairly comprehensive, easy to use, and thought it worked pretty well.  To be able to enjoy all of the apps features you'll need to have an iPhone 3G S.  If used properly I can see this app being a nice tool to have with you the next time you practice your golf swing.