No, this isn't just another beer pong game, Pub Pong is like air hockey for alcoholics!  In this game you're constantly bombarded with glasses full of beer, liquor, and cocktails from all angles.  It's your job to prevent drinks from passing by your side of the bar.  To stop drinks you've got to grab one and chuck it back.  Drinks bounce, ricochet, and collide to create ever evolving and challenging game-play.   Each time an alcoholic beverage slips through your grasp you've got to chug, chug, chug it.  Drink by drink your buzz increases, glasses start to blur, your reaction time slows, and your hand-eye coordination worsens.  Let too many drinks pass by and BWAAAHHHH!  You blow chunks everywhere and it's game over!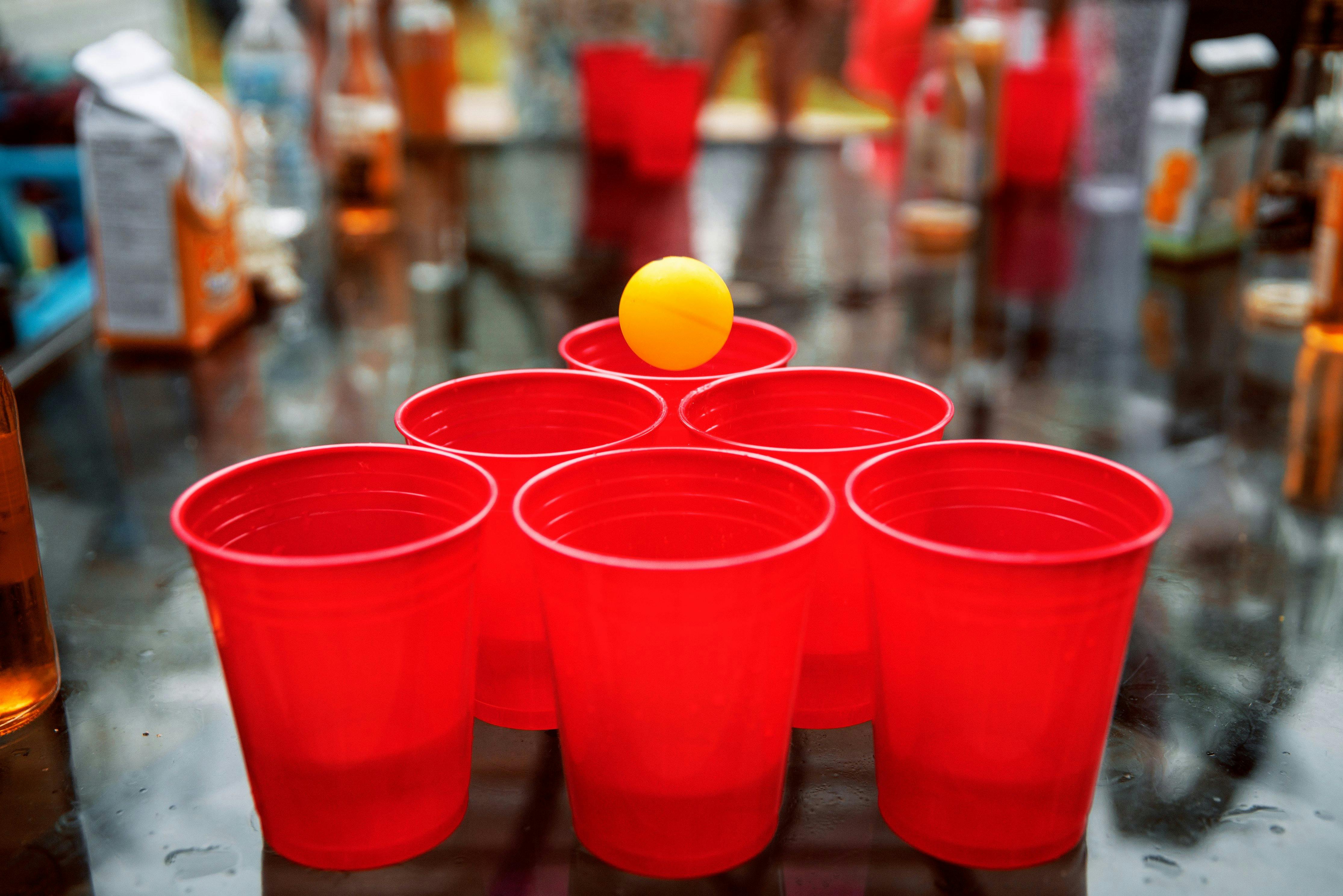 Pub Pong, created by Xogos, leverages the iPhone's accelerometer to grab and throw beverages.  To grab drinks you simply maneuver your iPhone or iPod from side-to-side to move your in-game hand toward glasses.  Once you've grabbed hold of a glass simply flick your wrist in a throwing motion to send the glass sliding across the bar.  There are both single player and multiplayer game modes.  In single player mode the objective is to earn as high a score as possible while in multiplayer mode you face off with another iPhone or iPod Touch wielding opponent in a head-to-head dual over a Bluetooth connection.
In single player mode you're essentially playing drunken table tennis against an invisible opponent.  A variety of drinks appear from above, bouncing and sliding in your direction.  You've got to grab them one at a time and send them skidding back to the other side of the bar.  Once they reach the other end drinks simply bounce off an invisible barrier and head back toward you.  The longer you stay alive and the more glasses you ricochet and destroy, the more points you earn.  In multiplayer mode the game-play is the same except you're facing off against a friend or foe leveraging an iPhone or iPod Touch's built in Bluetooth connectivity.  It's a one-on-one dual to the finish.  The first one to get sick is the loser!
The most important thing to focus on while playing Pub Pong is your Tipsometer.  It functions like an energy bar, except it measures how much you've had to drink. Your start the game as Sober, then go to Tipsy, Merry, Drunk, Bladdered, and then finally to Sick.  You Tipsometer increases each time drinks pass through your grasp.  You can lower your Tipsometer by earning big points and eating pub food.  To earn points and pub food you've got to catch drinks, ricochet them off one another, and smash into pieces by making them collide.
Key Features of Pub Pong:
Bluetooth enabled for in person one-on-one action
Tuned accelerometer controls for realistic inebriated game-play
Gross burps, disgusting eating sounds, nauseating hurls, and realistic bar room sounds
Global leader board powered by Open Feint
Overall we found Pub Pong to be a fairly unique game.  It's crude and often repulsive sound effects make you feel like you're side by side with a couple of dingy regulars at a worn and battered pub.  The graphics are fairly basic, but that actually seems to fit the game well.  We didn't experience any bugs or weird quirks throughout our review process.  If there was anything that we think could improve the game it'd be to increase the sensitivity of the game controls.  We found the in-game hand to maneuver slower than we would've liked.  Even when we positioned the iPhone at sharp angles the haste at which the hand moved from one side to another seemed to slow.  We also think the throwing motion could be more sensitive.  When we whipped our wrist to throw a glass the release seemed delayed, and in many cases the glass never left our hand.  We definitely appreciated the way the game-play shifts as you character gets more intoxicated.  It's as appealing to the eye as it is frustrating to play!
One thing's for sure, Pub Pong's drinking theme, and semi-crude humor is right in line with what most college kids can relate too.  It's not a stretch to think it's multiplayer mode could be used as a friendly pre-party drinking game.  If you're into drinking themed and drinking game type apps for iPhone and iPod Touch, you might just get a kick out of Pub Pong.